Theatre icon, James Ebo Whyte may be pushing his limits once again as he attempts to stage his next play in an airborne aeroplane at the National Theatre of Ghana.
The play 'I Slept with your Wife', which is likely to span over 2 hours, is set solely on a plane that's headed to Tamale from Accra.
Previous productions from arguably the leading theatre company in the country, Roverman Productions, have made use of impressive sets representing high-end homes, Presidential offices, marketplaces, salons, the airport, and others.
The theatre company also once staged a play, set in a popular, luxurious hotel in Brazil in a play titled 'Games Men Play', winning an award for both the quality of production and its innovative set.
However, the curtains on this next quarter's play are likely to open on the interior of an aeroplane, with a representation of isles of seats, overhead lockers, windows, cabin crew etc.
"This is our most daring set yet," the Head of Production, Kwabena Yeboah said in an interview. He revealed that, in order to pull this off, two of the best professionals have been put together.
Jojoe Tetteh- Quantson, Roverman's regular set designer, as well as multiple award-winning visual artist, Prince Hilton, are coming on board with the special effects.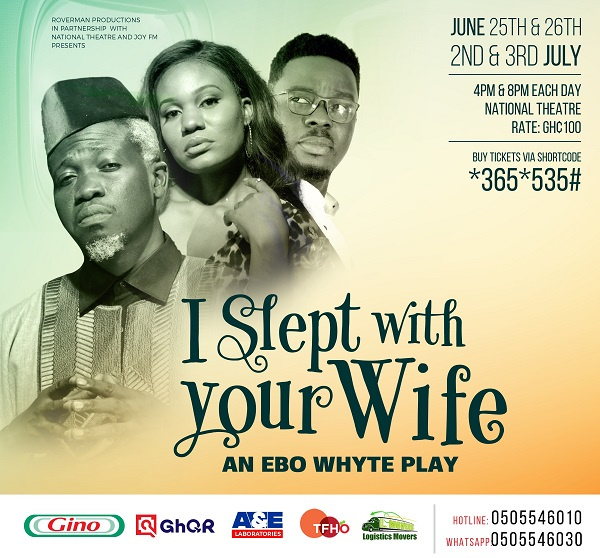 According to Mr Yeboah, the biggest challenge in pulling this off, may not necessarily lie with putting up the physical set structure on stage, it may be the ability to make it as believable as possible, giving the audience a great sense of realism.
"You could put a plane there and if the people don't make you feel like you're in a plane, you'll still disconnect from the story," he added.
In order to achieve visual believability, other elements like sounds, movements, and lights have been employed artistically.
Also, extensive research has been done in order to "bring it as close to reality as possible. Aeroplane take-off sounds, turbulence sounds, aeroplane beep sounds, etc have all been simulated to achieve a realistic effect."
the Chief of Staff of Roverman, Elsie Attieku Nuku, also revealed that achieving this set for 'I Slept With Your Wife', has not come without challenges of unprecedented cost.
Implications On Movements
To represent an airborne plane on stage surely has some implications on the movement of the cast on stage.
Kofi Antonio, who is one of the two choreographers working on the production, noted that it has taken constant rehearsals to achieve movement that is consistent with being in an airborne flight.
Staggering and shaking during turbulence, swaying whiles sitting and standing etc have had to be achieved with extensive research and practice.
Synopsis
The play 'I Slept With Your Wife' is about a politician, Hon Yonkopa who is planning to have an incredible time in Tamale with his side chick, Naa.
Just as they board the flight, Naa discovers that a man she helped destroy is also on the plane. To make matters worse, Venus, Hon. Yonkopa's wife shows up on the plane before it takes off.
What ensues is the craziest flight ever, as the plane endures turbulence, faulty engines and death-threatened passengers willing to spill the beans before they die.
'I Slept With Your Wife' is a hilarious roller-coaster thriller set in an aeroplane. It is a story that uncovers shady deals, preaches hope and turnarounds. It shows on the 25th and 26th of June, and the 2nd and 3rd of July, at the National Theatre.
Source: JoyOnline