The Electoral Commission says regions along the nation's borders had the most recorded challenge cases per the number of registered voters in the region.
During the ECs 'Let the Citizens Know' press briefing Friday, the Deputy EC Chair; Dr Eric Asare Bossman stated that though the Greater Accra and the Ashanti Region have the highest recorded challenge cases in nominal terms, regions like Oti, Ahafo, Volta, Bono and Western North recorded the highest numbers in real terms.
"In real terms (when the numbers are adjusted for the total registered per region) the leading regions with most challenged cases are the Oti at 0.49%, Ahafo at 0.37%, Volta at 0.36%, Bono at 0.31%, Western North at 0.29%, and Savanna at 0.29%. Interestingly, all these are border regions except Ahafo and Bono East," he said.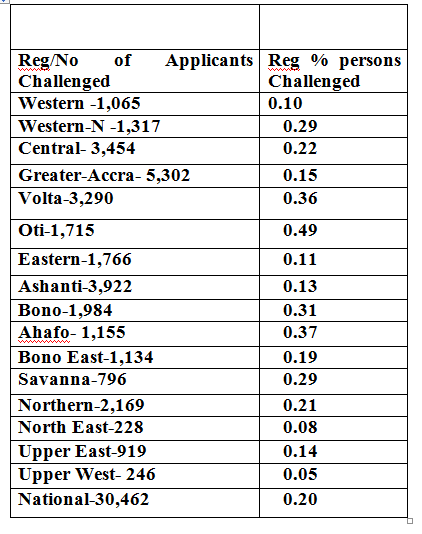 He said this was indicative of the fact that most of these challenges were due to people contesting the nationality of applicants in these regions.
He was quick to add that, some of these challenges also stemmed from people contesting the residential and age statuses of applicants in their area.
He, however, expressed disappointment at the behaviours of some political party agents who had abused the challenge system by intentionally contesting the eligibility of applicants in their opponent's stronghold.
"Democracy thrives when all qualified applicants are given the opportunity to take part in the political process," he said.
He advised that, "Parties should educate their agents to avoid preventing persons who are otherwise qualified to register and vote from doing so."
Dr. Bossman further urged stakeholders to cooperate fully to ensure the smooth running and success of the Voter Registration Exercise as it comes to a close.
The post Regions on the border had the most challenge cases – EC appeared first on MyJoyOnline.com.
Source: JoyOnline