Competition of market dominance in the automobile industry intensifies as the dream of every Ghanaian to drive a brand new car gradually becomes a reality.
Government has thus introduced a niche market to not only make this dream a reality but also complement its industrialization and job creation agenda.
Events started taking shape in August 2018 when German Chancellor, Angela Markel, paid an iconic visit to Ghana for a partnership to have German automobile giant – VW, establish a car assembly plant in Ghana.
"We are very interested in investing in Ghana. I'm happy to say we are signing an MoU with the government of Ghana with our automobile giant, VW taking the fore."
Last week, VW out doored a collection of its newly assembled cars in Ghana with the price pegged at ¢60,000– that's for a brand new VW vehicle. Trade and Industries Minister, Alan Kyerenmanteng, played a key role in the compilation of an automobile bill – the first of its kind in Ghana.
"What is happening means a lot for the economy. It is going to reduce our import bill of $10 billion per annum. Our 30 leading imports constitute a chunk of this amount. Out of this 30, the top three is led by the importation of vehicles. The establishment of an automobile industry is the best solution"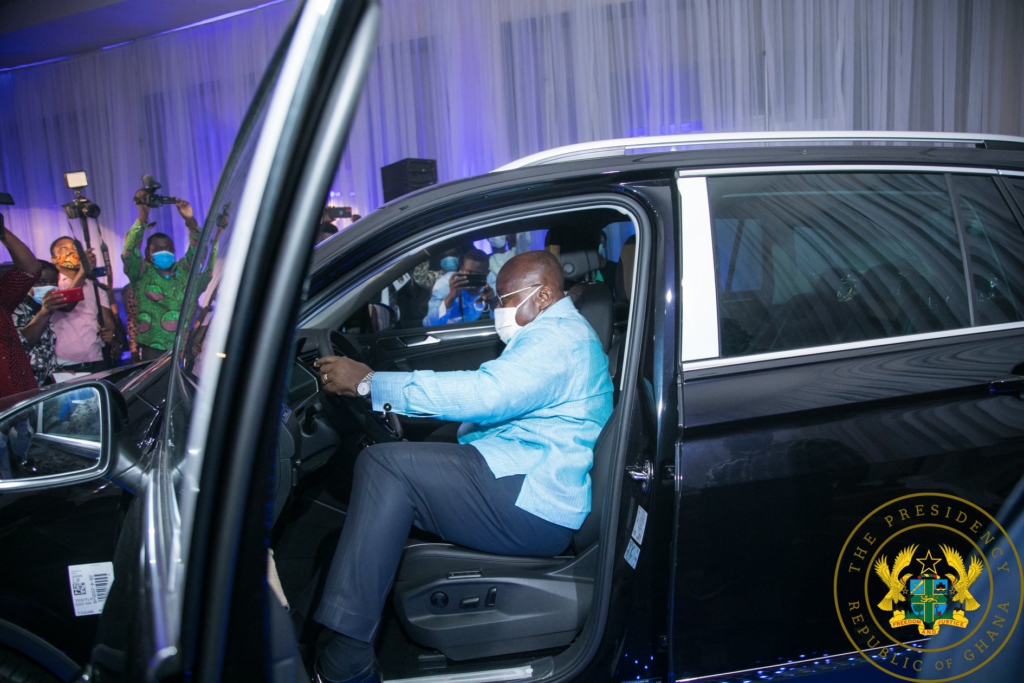 Never get it wrong, VW is just one of many other automobile giants racing to establish vehicle assembly plants in the country. Suzuki, CFAO, and Toyota are among other competitors.
"We find Ghana as the right place to invest in the automobile industry. We came to know from Toyota that Ghana has introduced a new automotive policy. We are highly interested in participating in this initiative General Manager for Middle East and Africa of Suzuki Motor," Koyote Suzuki revealed.
With 30% shares in Ghana's automobile space, Toyota is up for some competition as it focuses on a local assembly point in the country.
Head of Sales Operations of Toyota Ghana, Andrew Lamptey, said "It is our responsibility on us to ensure that every Ghanaian who wants to own a vehicle gets one. We are committed to packages that will make the vehicle affordable and easily accessible to all Ghanaians".
Already, local dealers in second hand vehicles feel threatened by the government's ambitious move for an automobile industry.
Eddy Kusi is a second car dealer and he minced no words jabbing the government for going into such partnership.
"If you are a government bringing in an assembler – we have these big car companies coming in – allowing them to operate with free duty for three years. What are we gaining as a country? The local automobile dealers in Ghana will be kicked out of business. It makes no sense," Eddy Kusi lamented.
However, President Akufo Addo has been explaining the reason for this move, saying, to him, opening the space for healthy competition and granting Ghanaians the option to purchase affordable brand new cars are all that matters.
"I'm expectant that the brands being assembled in Ghana will not only be affordable but also of the highest quality. The government will always support in diverse ways to ensure the sustainability and profitability of these brands," the president expressed.
Meanwhile, the Automobile Dealers Union of Ghana is threatening a nationwide demonstration against the government's move. With Ghana's second dealers numbering in their hundreds, disruptions in their supply could affect job numbers.
Trade Minister, Alan Kyerementeng at the unveiling of the cars from VW said jobs said jobs are rather going to be created.
"There's no doubt that this effort of the government together with private will help us not just earn foreign exchange but also create millions of jobs across the automobile value chain," he stated.
Joy Business engaged the MD for VW Ghana, Jeffery Oppong Peprah who maintained the presence of automobile giants in Ghana will in no way spark a wave of job losses for second hand car dealers.
According to him, "second hand operators won't lose their jobs. We are going to transfer technology and knowledge".
As grave competition stares them in the face, Ghana's first indigenous, car assembly company, Kantanka is getting more innovative at this point.
In a tweet by the company's CEO, Kwadwo Safo Jnr, showed a picture of smaller, economic cars for the mass market.
If successful and sustained, Ghana's niche automobile industry can push the country into the leagues of nations locally producing vehicles for not just local but also international consumption – a feat that will open up a new contribution to Gross Domestic Product in the long term.
The post Scramble for market dominance intensifies as automobile giants start production appeared first on MyJoyOnline.com.
Source: JoyOnline