Some hospitals in the Volta and Oti regions have taken delivery of thousands of facemasks from the MTN Ghana Foundation.
The donations which are being made across the country seeks to encourage more people to wear facemasks in order to help the fight against Covid-19 pandemic.
In a statement read by the Volta/Oti lead of MTN, Mawuli Katahena, on behalf of the Area Sales Manager for South East, Steven Asare, it is also to support health workers across the country.
He noted that "During this pandemic, we have acknowledged that protecting our health workers is paramount. Health workers use a lot of face masks in and out of the hospitals and we are delighted to be able to provide additional face masks for them."
Mr Asare stated that the donations form part of the foundation's face masks campaign dubbed "Wear it for me and be smart" emphasises on the need for people to cultivate the habit of regularly wearing of the masks which has become very necessary.
He said, following the outbreak of the virus, the foundation has been supportive with a number of interventions to help reduce the spread of the disease.
MTN Foundation, according to Mr Asare, donated ¢5million worth of PPEs to the national Covid-19 Trust fund as well as a donation of essential equipment to the Noguchi Memorial Institute for Medical Research for rapid testing and data processing.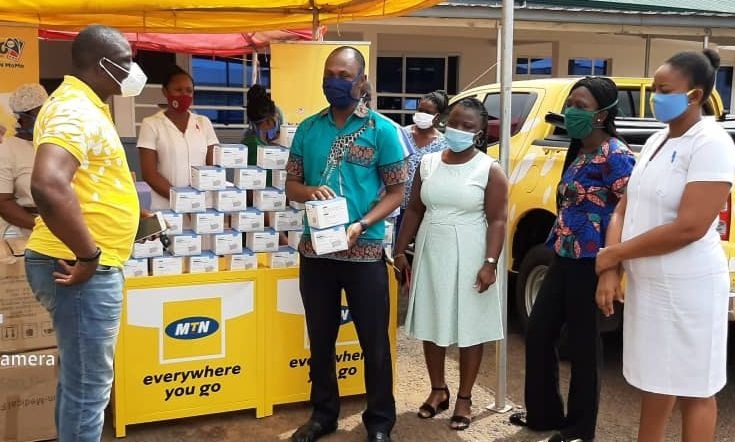 According to him, the MTN Ghana Foundation has been helpful in national development through investments in different areas of economic development, education, health etc…
"Over ¢15,207,874.19 has been invested in about 150 projects across the country. These projects are estimated to have impacted over 4 million people," he said.
The administrator of the Ho Municipal Hospital, Samuel Omega thanked the team on behalf of the Medical Superintendent, Dr Lawrence Kumi.
He mentioned that the timely donation would go a long way in helping the hospital in the fight against the pandemic.
The group donated 3000 pieces of KN95 facemasks to the Ho municipal hospital and 2,700 for Ketu Southin the Volta Region, 3000 for Jasican and Dambai 3,700 in the Oti Region and 88,000 across the country.
The post MTN Ghana Foundation takes 'Wear it for me' campaign to Volta and Oti Region hospitals appeared first on MyJoyOnline.com.
Source: JoyOnline